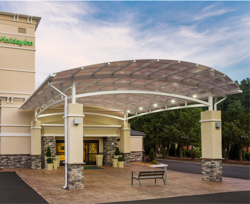 Blue Star Hospitality, LLC is a hotel management company that operates and develops hotels in the US, and affiliates of the company operate hotels outside of the US. The company's history started in 1995 with the development of its first Holiday Inn Express franchise, followed by 26+ hotels and other retail and real estate developments in North Carolina, South Carolina, Tennessee, and Florida.
Blue Star Hospitality is located in Fletcher, North Carolina (just south of Asheville). Blue Star Hospitality can provide tailored management services customized to meet ownerships specific needs. With our established track record of generating significant operating profits at our hotels; Blue Star creates invaluable credibility when approaching potential partners and financial resources within the hospitality industry. Blue Star Hospitality has established relationships with franchises such as:
Marriott International, Inc.
Hilton Worldwide
Wyndham Worldwide
Choice Hotels International, Inc.
Intercontinental Hotel Group
Radisson Hotel Group
Experience To Count On
Our expertise covers a broad range of lodging options, from mid-size limited service properties to full-service hotels featuring full service restaurants and banquet space. We have a proven track record in all aspects of the hospitality business including:
Operations
New Development, Construction & Rehab
Centralized Accounting
Payroll Services
Tax & Legal Support
Sales & Marketing
Human Resources
Mission
"To deliver an extraordinary guest experience to our customers, every time."
Blue Star Hospitality's mission evolved from the passion to succeed and commitment to reach a high level of success within the hotel and real estate development and management industry.
Vision
Blue Star Hospitality strives to expand its hospitality portfolio of hotels and real estate investments while delivering outstanding investment opportunities to its core group of investors, as well as career and development opportunities to its associates and exceptional service to its customers.